India Today Advertisement Booking Online with Bookadsnow
With its launch 17 years ago on 7 April 2003, India Today news channel has secured its position among top 5 English news channels in the nation backed by a massive viewership and reach. Owned by Living Media, India Today deals with news on a national and international level. A favourite of top brands and businesses for releasing ads, book India Today advertisement through Bookadsnow to reach your potential customers with ease.
Language: English
Genre: News & Current Affairs, News
Viewership: 4549000 Weekly
We do not display any rates as all media rates are negotiable. Please get in touch with our media experts for the best rates!


30+ YEARS
industry experience

AUTHORIZED ONLINE AD
BOOKING

Submit your details to book India Today Advertisement
For more value add options such as Page mark, Extension, Advertorial please get in touch with our media expert. Call us on 9830400021 for more details.
Why Advertise in India Today News Channel?

Additional Information
Even though it is a renowned English news channel, here are the reasons that make it worth releasing TV ads.
Healthy Viewership in the Market
India Today news channel enjoys a viewership of 4549000 per week.
Growth in Impression
India Today has topped in all megacities with an unmatched impression number which spiked to 866000 in week 14.
Assured Long-Term Success
With the ever-rising impressions, reach and viewership of the channel, India Today news channel is sure to provide the advertisers with long-term success with better outcomes.
Excellent for B2B & B2C Sectors
From E-commerce to FMCG, the news channel will produce great revenues for B2B and B2C sectors in the industry.
What are the Different Types of TV Ads You can Release on India Today?
Aston Band- Flash ad played at the bottom of the screen.
L Band- L shaped ads played on TV while the content is being played.
Associate Sponsorship- This type is defined by a tie-up between the brands and the broadcaster of the channel, enabling businesses (especially the small scale ones) to appear on a channel, thereby reaching their target audience with ease.
TV Ad Breaks- These are the TV ads that appear during Ad break slots of a particular programme.

What are the Media Essentials Required to Book India Today Advertisement?
Ad Creative & the Format- Submit your content in an appropriate file format to the respective party.
Booking Deadline- Consider the ad booking deadline to book your ad on time.
Payment process- Choose your preferred payment plan and proceed with the process by making the final payment.
Why Choose Bookdsnow to Release Ad on India Today?
Our 30+ years of experience in the media sphere has given us the edge to meet our client's requirement within the stipulated deadline. As an online portal for booking television ads, we have made sure to simplify the process of booking an ad through us which can be wrapped up within a few simple steps. With the dedication to deal with each client individually, this is why Bookadsnow should be your first choice for releasing an India Today advertisement.
Competitive Market Rates- Through Bookadsnow, get the advantage of receiving the best India Today Ad Rates in the market.
AAAI Membership- We have been bestowed with the AAAI membership that gives us the licence to various advantages beneficial for our clients.
Prime Time Ad Booking of Prime Slots- Choose us to book India Today Advertisement in the prime ad slots, thereby increasing your brand reach to your customers.
Live TV Ad Monitoring Facility- Get real-time information about the number times your TV ad is being played as our in-house experts keep a live track of the same.
End to End Media Solution- From helping you to choose the right channel for your advertisement to providing you with other assistance, our experts are always on their toes to guide at every step.
Overall Evaluation & Proof of Execution- Get access to the end report of your advertisement displaying the result with a detailed proof of execution
Online Partner for All Top News Channels- Bookadsnow works with top TV channels across the nation and maintains a healthy relationship with them, thereby, making it accessible for businesses to release TV ads with ease.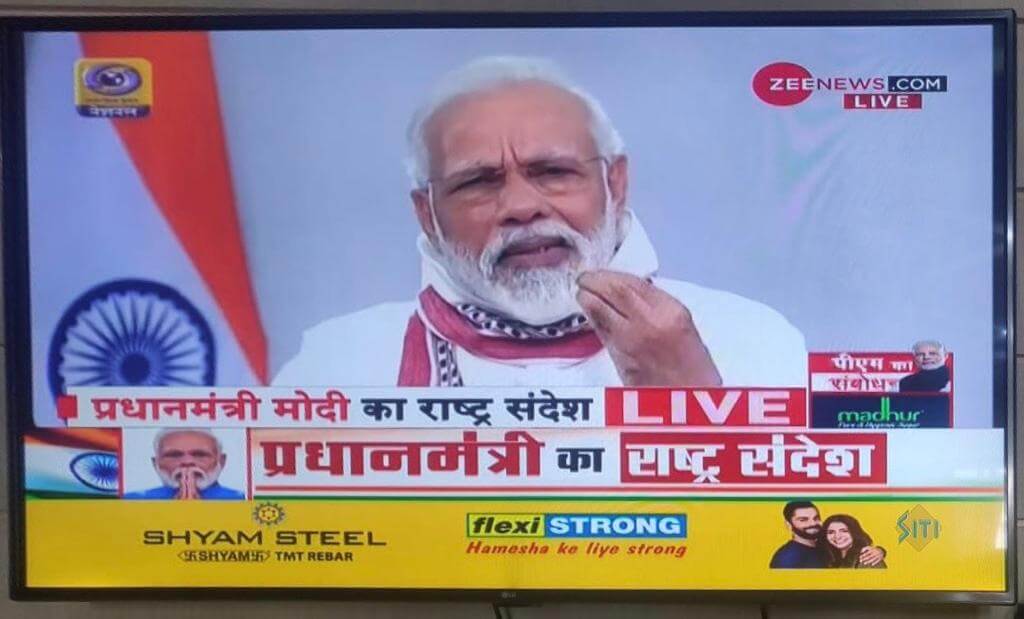 Frequently Asked Questions (FAQ):
How many TV ad spots can I buy in a day?
Ideally, the number of spots range between 9 and 21 in a day. The number of spots that you would like to advertise in depends on the nature of channel you choose and the intensity of your campaign which we will guide you through. Book Television Advertisement Now!!!
What is the minimum TV ad campaign duration?
Although there is no minimum campaign duration as such, our suggestion is to run the campaign for at least 7-15 days. This is to get the minimum reach and visibility for your campaign. Please get in touch with our media experts on +919830400021 to learn more about the best media plans and the campaign duration your brand requires.