Republic Bharat Advertisement Booking Online with Bookadsnow
Comparatively a young Hindi news in the media sphere, Republic Bharat was launched in 2019 and within a very short time, they have secured a place among the top 5 Hindi news channels in the nation. A sister channel of Republic TV founded by Arnab Goswami, Republic Bharat Hindi under ARG Media carries nationalism at its core. Dedicated to providing the viewers with news at the national and international level, book Republic Bharat news advertisements through Bookadsnow to see your brand touching the zenith of success.
Language: English
Genre: Infotainment, News
Viewership: 11000
We do not display any rates as all media rates are negotiable. Please get in touch with our media experts for the best rates!


30+ YEARS
industry experience

AUTHORIZED ONLINE AD
BOOKING

Submit your details to book Republic Bharat Advertisement
For more value add options such as Page mark, Extension, Advertorial please get in touch with our media expert. Call us on 9830400021 for more details.
Why Advertise in Republic Bharat News Channel?

Additional Information
Even though the channel might be popular, as an advertiser, it is your right to know about the advantages that will come with releasing an ad on R.Bharat Hindi news channel.
Enhanced Impression
Republic Bharat saw a huge leap in impression in week 14 of 2020 which spiked to 272602000.
Enhanced Growth
From week 9 with 85 crores reach to week 12 with 199 crores reach, there is a growth of 121% in the reach of the channel.
Unmatched Viewership
In the year 2019, the viewership of the channel had spiked by 228% over a period of 5 weeks.
Apt for B2B & B2C Sectors
The channel is great for brands/businesses in the B2B and B2C sectors of the industry due to the audience profile it covers along with its wide wide scale reach.
What are the Different Types of TV Ads You can Release in R.Bharat?
Aston Band- Aston Band is a flash ad played at the bottom of the screen.
L Band- These are L shaped ads played on TV while the content is being played.
Associate Sponsorship- These are the types of TV advertisements where brands develop a partnership with the broadcaster, thereby taking the first initiative to get on TV channels to reach the mass.
TV Ad Breaks- These are the standard TV ads or commercials that are played during the various Ad break slots.

What are the Media Essentials Required to Book Republic Bharat Advertisement?
Ad Creative & the Format- Provide the respective news channel or the agency with your content in an appropriate file format.
Booking Deadline- As a responsible advertiser, book your ad within the stipulated booking period.
Payment process- Opt for a payment plan based on your requirement backed by the payment channel that will ensure a safe payment process.
Why Choose Bookdsnow to Release Ad on Republic Bharat?
With 30+ years of experience in the media industry, we at Bookadsnow, are well aware of the nitty-gritty that works in this industry. We are an online portal for booking television ads where we have simplified the whole process within a few simple steps. Here are the reasons to choose Bookadsnow for booking Republic Bharat news advertisement.
Best Price Guaranteed- We will provide you with a competitive market rate for your Republic Bharat advertisement.
AAAI Membership- We have received the prestigious AAAI membership
Prime Time Ad Booking of Prime Slots- We will help you with booking ads during the prime slots while making sure to release the same as per the promised time.
Live TV Ad Monitoring Facility- The facility will allow you to keep a track of the number of times your advertisement was aired as the in-house experts will keep you informed.
End to End Media Solution- Our dedicated in-house media experts will always guide you through your media plan from start to finish.
Overall Evaluation & Proof of Execution- We will provide you with a report displaying the end result of the advertisement with a detailed proof of execution of the advertisement.
Online Partner for All Top News Channels- We work with the top news channels in the industry, thereby, making it easier for you to release a TV advertisement on these channels.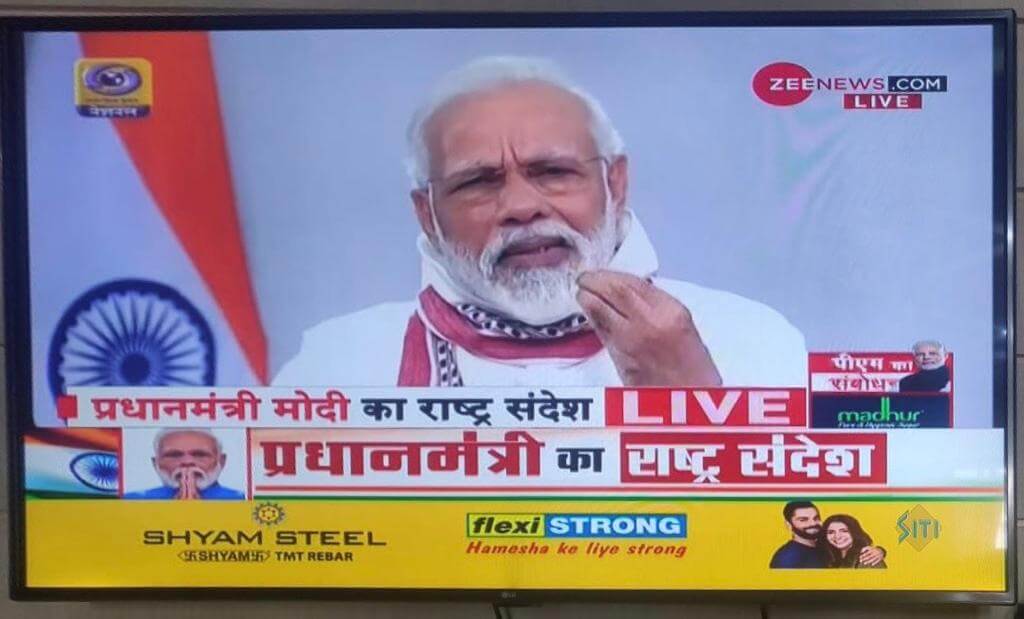 Frequently Asked Questions (FAQ):
In case of TV ads, do you book only spots or do you book scrolls, Aston and L band ads as well?
Alongside regular spots, we do book spaces for Television Advertisement:
Scrolls – Ads with the short duration that keep scrolling from one end to the other
Aston bands – Flash ads that play at the bottom of the screen while content is being played
L Bands – L shaped ads that play at the bottom of the screen while content is being played
Please get in touch with our media expert on +919830400021 to find out more.
How many times in a day will my TV ad be played?
This is determined according to your budget, channel mix and the number of spots you choose:
We will give you a detailed spot schedule, which is a part of our campaign-planning process. Bookadsnow have an in-house 24X7 Television advertising monitoring setup which tracks the playout schedule of your ads in real-time. We have a dedicated team that verifies and records all your ad spots during playout. We provide you with detailed, daily reports of the same, at your doorstep. We also provide you with telecast certificates as issued by the channel.